Are you looking for a unique way to celebrate your love this Halloween? Why not consider having a Halloween wedding? This can be a fun and spooky way to tie the knot, and there are plenty of ways to customize your celebration to fit your personality. Here are some tips on how to have a fabulous Halloween wedding.
Some tips for organizing an unforgettable Halloween wedding
First, decide on a theme. Do you want a traditional Halloween wedding with black and orange decorations, or are you looking for something a bit more whimsical? Maybe you want to go all out with a spooky haunted house wedding. No matter what your style, there are plenty of ideas to choose from.
Next, pick out your wedding colors. Again, black and orange are always a safe choice for a Halloween wedding, but you can also be creative with your color choices. Think about using shades of green and purple to create a creepy atmosphere, or going with bright colors for a more festive look.
Then, it's time to start planning your menu. There are lots of fun Halloween-themed foods that you can serve at your wedding, from gummy worms and spiders to jack-o-lantern pizzas. Or, if you want something a bit more traditional, you could serve a selection of fall favorites like pumpkin pie or apple crumble.
Finally, don't forget about the details! Decorate your venue with Halloween-themed decorations, choose spooky music for your reception, and give out Halloween favors to your guests. With a little bit of creativity, you can create a wedding that's perfect for this fun and festive holiday.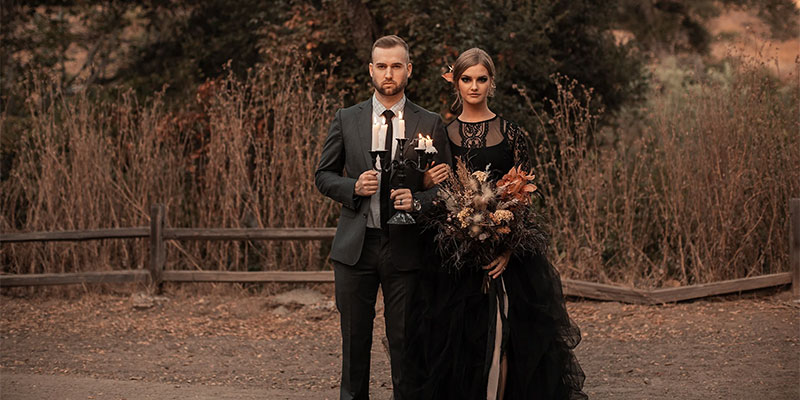 Is Halloween a popular day to get married?
While it's not as popular as some of the other major holidays, like Christmas or Valentine's Day, Halloween is still a popular day to get married. In fact, there are now more than 1,000 Halloween weddings each year in the United States. If you're looking for a unique and spooky wedding theme, then a Halloween wedding may be the perfect choice for you.
Is it weird to get married on Halloween?
While some people may think it's a bit strange to get married on Halloween, there is no right or wrong answer when it comes to choosing your wedding date. It's entirely up to you and your spouse-to-be what date feels right for your celebration. So if you love Halloween and want to celebrate your big day with a spooky theme, then go for it! Just make sure you plan accordingly so that everything goes smoothly on your big day.