The answer to this question depends on a few factors, including the size of the reception space and the desired look. For a small reception space, you may only need a few strings of lights. But if you're going for a more dramatic look, you may need several hundred strings of lights. Ultimately, it's up to you and your wedding planner to decide how many strings of lights you'll need for your big day. But we can give you some general guidelines to help you out.
Key parameters to pay attention to when preparing wedding lighting
Space: consider how much space you will be using and what type of lighting look you are going for
Budget: Lights can be expensive, so make sure to allocate the necessary funds
Timing: think about how long you want the lights to stay on. You don't want your guests getting too tired from the bright light
look: Romantic? Glamorous? Funky? Choose a style that will fit your wedding perfectly!
How important is lighting at a wedding?
Lighting is a very important part of any wedding. It can set the tone for the entire event, and it can help to create the desired mood. So if you're looking to create a romantic or glamorous atmosphere, you'll need to pay close attention to your lighting. And if you're on a tight budget, don't forget that lighting can be a relatively affordable way to transform your space.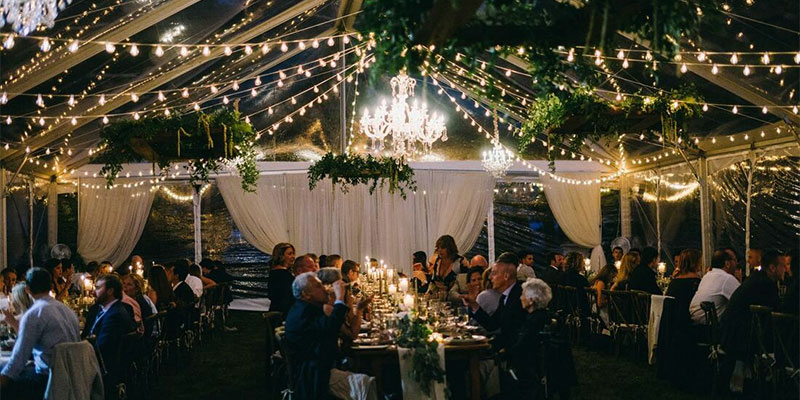 How do you save money on wedding lighting?
There are a few ways to save money on wedding lighting. One is to choose a simple look, such as strings of white lights. Another is to use LED lights, which are more energy-efficient than traditional bulbs. You can also save money by hiring a DJ or band instead of hiring a lighting specialist. Just be sure to discuss your lighting needs with the DJ or band in advance so they can plan accordingly.
What are some popular lighting options for weddings?
Some popular lighting options for weddings include:
String lights
Candles
LED lights
Chandeliers
Spotlights
Sunset projections
Fireworks
Each of these options can create a unique look for your wedding. So be sure to choose the option that best matches your style and budget.
Do I need dance floor lighting at my wedding?
Dance floor lighting is not necessarily required at a wedding, but it can add a lot of fun and excitement to the event. If you're on a tight budget, you may be able to get away with using basic LED lights or string lights. But if you want something more flashy and dramatic, you may need to invest in some high-end dance floor lighting. So it's ultimately up to you and your wedding planner to decide what type of lighting is best for your reception.